Chapter 2

Markdown
2.1

Introduction

In this first chapter, you will familiarize yourself with one of the two main languages we will use in this book: Markdown. The other one being R.

Remember, the goal of this book is to harness the power of data science tools for business. In this regard, we promote reproducible research as our research method. In order to do so, RStudio, with documents written in Markdown, will be your main portal for doing your projects. You will learn a few syntax tips regarding Markdown and how to save your projects online (Git). Throughout the chapters, useful tips will be either displayed in bold or in italics.

At the end of the chapter, you should be able to:
create your first document in RStudio
understand the Markdown syntax and knit your document
2.2

Create a new document

To create a new document, select File > New File > R Markdown.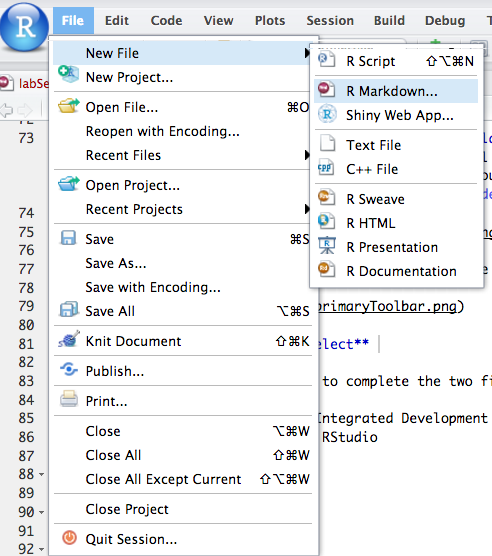 Select Document and enter the name of your new file with the default output format as HTML.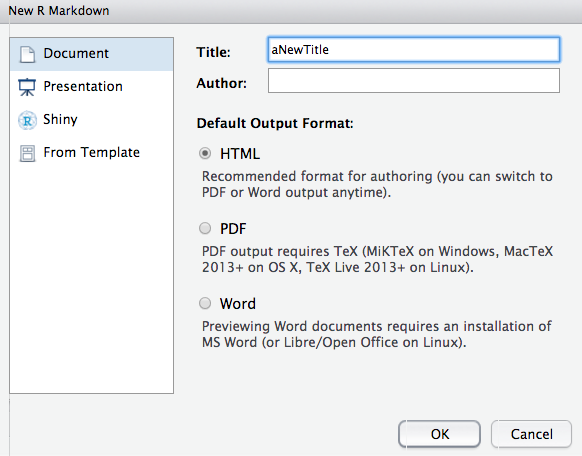 This will create a new file that you will be able to work with using the R Markdown syntax. Save your new file using the floppy disk icon seen previously.
At this point, you should be able to complete the two first achievements of the lab, namely:
familiarize yourself with the RStudio Integrated Development Environment
create your first document in RStudio
2.3

Markdown

Your newly created document will be written using the Markdown syntax. Such format incorporates R code (named chunks), provides the possibility to write mathematical equations in LaTeX and export your document to any format (presentation, html, .doc, PDF…).

For more on R Markdown syntax, please refer to: https://www.rstudio.com/wp-content/uploads/2015/02/rmarkdown-cheatsheet.pdf
2.4

Reproducible research

In this book, we like reproducible research a lot! It allows people across the world to have access to the explanations through an article, the code and the data. By sharing all this information, we all save a lot of time and can all move further in the various developments.

Here is a fantastic Shiny app with references of economic articles accompanied by their code and data. It is very useful to select an article for an individual project or for a team project in a course.

Economic articles - reproducible research

TL;DR
---


title

:

 "aNewTitle"


author

:

 "John Doe"


date

:

 "28/05/2019"


output

:

 

html_document


---




  




# provide some descriptive statistics




summary

(cars)



# plot a 2 axis graph




plot

(cars)



# inline code




`

r mean(cars$speed)

`





# set up images




!

[](.

/

R1images

/

image.png)
Code learned in this chapter
| Command | Detail |
| --- | --- |
| summary() | Produce result summaries |
| plot() | Plot of R objects |
| mean() | Calculate (trimmed) arithmetic mean |
Getting your hands dirty
To get familiar with Markdown, you must reproduce this report. A copy and images are also available in folder named chapter2 on Github. It needs to be perfectly identical. Make sure that you respect the different levels of headings and the typography. Do not forget to add images and the html link.
We recommend you to review this chapter and consult the R Markdown Cheat Sheet